Pi-Lit Sequential Flare Kit - AA version
SKU:
ICSS
Lead Time:
6-8 weeks
The Pi-lit LED Sequential Flare provides a highly visible running action pattern to guide traffic around obstacles much like airport lighting. Each flare has 5 patterns to choose from and you can change the pattern for ALL flares from any single flare.
The new Generation 2 flares feature:
36+ Hour of runtime (continued flash)

Powered by 4 off-the-shelf Alkaline AA batteries (included)

Battery status check with push of a button

5 flash patterns to choose from (4 sequential, 1 simultaneous)

IP67 water and dust rating

30,000 lbs (13,600 kg) crush strength (lab tested and certified)

Flare specification: Weight = .5 lbs, Dimensions: L = 4.25 in, W = 3.5 in, H = 1 in

Set purchases include: Carrying case, AA batteries installed

Can be used around chemical or oil spills.
✓ 13,600 kg (30,000 lbs) of crush strength. Yup, you read that right!
✓ IP65 Water and Dust Proof Rating
✓ Built, Designed, and Supported in the U.S.A
✓ 2-Year Manufacturer's Warranty
Powered by 4 "AA" batteries.
Sets are available in 4, 6, and 10 modules
Colors: Red, Orange, Blue, Amber and Green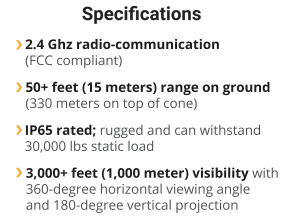 Currently there are no reviews for this product. Share your opinion with others, be the first to write a review.
Your cart is currently empty
Subtotal: $0.00