Leatherhead Lockwood Hook
SKU:
LWH
6-8 week lead time:
Leatherhead Lockwood Hook
The Lockwood Hook was designed to provide superior functionality to the Roof and Outside Vent Firefighter. All of the tool geometry is purposefully designed to optimize performance and efficiency, making for a high-performing fireground tool.
FEATURES:
The broad top edge of the hook provides for superior sounding of roof decking and deliver positive feedback through the shaft.

Working angles of the tool head provide extra lift to get materials pulled-up and opened-up quicker and easier.

The "throat" of the hook is specifically designed for quick and secure "marrying" to a Halligan to get the firefighter where they are going without any delays or tool fumbles

The perfect balance of power-to-weight is struck with slightly thicker walled tubing, making for the perfect weight for positive sounding and window sash-smashing, without adding extra fatigue to the firefighter.

The top beveled edge of the tool slices through drywall in long, clean cuts and provides extra leverage to pull lath and plaster.

Drop forged tool steel for superior strength and durability (no casting here) and always 100% made in the USA.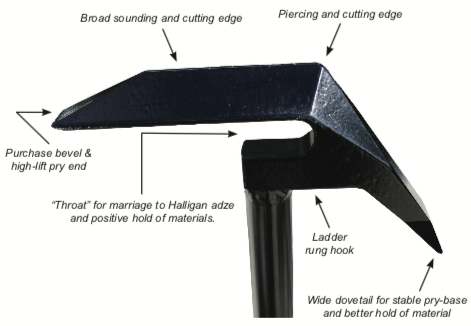 6', 7', 8', 10' and 12' variations are also available. Please call for a quote so we can give you accurate shipping. Thank you.
Currently there are no reviews for this product. Share your opinion with others, be the first to write a review.
Your cart is currently empty
Subtotal: $0.00