Helmets

FIRE HELMETS THAT ARE LEADING THE INDUSTRY!
SAFETY EQUIPMENT AS RESILIENT AS YOU ARE
For nearly 90 years, Bullard has been the benchmark for fire helmet design have led the way with ergonomics in a Bullard Tough package.
We employ and consult with veteran firefighters in everything we do to give you the rugged and robust tools you need
HELMETS BUILT FOR DANGER
Structural firefighters face many unique types of exposures, hazards, and situations, such as defensive and offensive firefighting, structure entry and ventilation, rescue operations, and assisting with emergency medical situations. These physical demands require your gear and tools to be robust, maintain a good fit, feel comfortable, and promote proper ergonomics. Discover why Bullard fire helmets are Bullard Tough.
Due to supply/production problems beyond the manufacturers control extended delivery times will apply to any helmets ordered.

We cannot guarantee delivery dates at this time.
Some of the Options Avaliable at Extra Cost (not all options available on all helmets)
ReTrak Integrated Helmet Visor

TrakLite Integrated Helmet Lighting

Triple Trim Scotchlite

Leather Front Shield
Any Bullard Helmet ordered with Bourkes eye shields is considered by Bullard to be a non-compliant NFPA 1971 helmet and must be installed by the user.
Please consult your agency requirements before ordering a non-NFPA compliant helmet.
Ultimate Comfort. With 12 points of adjustment, each firefighter can customize the fit of their helmet for maximum personal comfort.
Extreme Durability. Lightweight designs don't sacrifice durability. These helmets are designed Bullard Tough for harsh environments.
Maximum Customization. Get the ultimate in customization for each helmet: Scotchlite® striping options, faceshields, goggles, integrated lightning, and top-quality leatherfronts.
TrakLite® Integrated Lighting System

Bullard TrakLite® integrated helmet lighting system blends engineering, functionality and safety to help firefighters see forward in dark or smoky conditions. The lightweight Bullard TrakLite is designed to help increase the functional performance of your fire helmet without bulky or cumbersome additions.
TrakLite Features:
Eight bright white LEDs protected behind a heat-resistant glass

Bright blue "buddy indicator" light on the rear of the helmet

No external clips, brackets or wires

Four AAA alkaline batteries

Long battery life

Easy on/off operation

Available on all Bullard structural fire helmet: UST, FX, PX and LT
TrakLite meets NFPA 1971-2013 requirements and is CSA Certified Nonincendive Electrical Equipment for use in Class I, Division 2 Hazardous Locations.
ReTrak® Series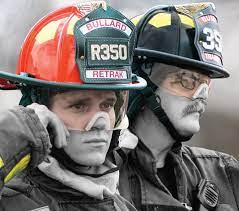 The ReTrak series offers emergency responders a fire helmet with an integrated visor engineered based directly on feedback from firefighters.
ReTrak Features:
Simple one-handed operation

Easily accommodates eyewear

Increased area of protection

Comfort nosepiece

Quick removal for cleaning

Made in the USA
UST/USTM and FX/PX ReTrak Helmets are now available and meet NFPA 1971/ ANSI/ISEA Z87.1+ requirements.
Your cart is currently empty
Subtotal: $0.00